OPPA Youth Prevention Awards
The OPPA Youth Prevention Awards honor Ohio's youth leaders for their contributions to prevention on the local and/or state level. Only OPPA members can nominate award candidates.
Below are narratives about each of the 2022 OPPA Youth Prevention Award recipients. The 2023 Youth Prevention Awards will be presented at the OPPA Youth Prevention Showcase, taking place in the fall of 2023.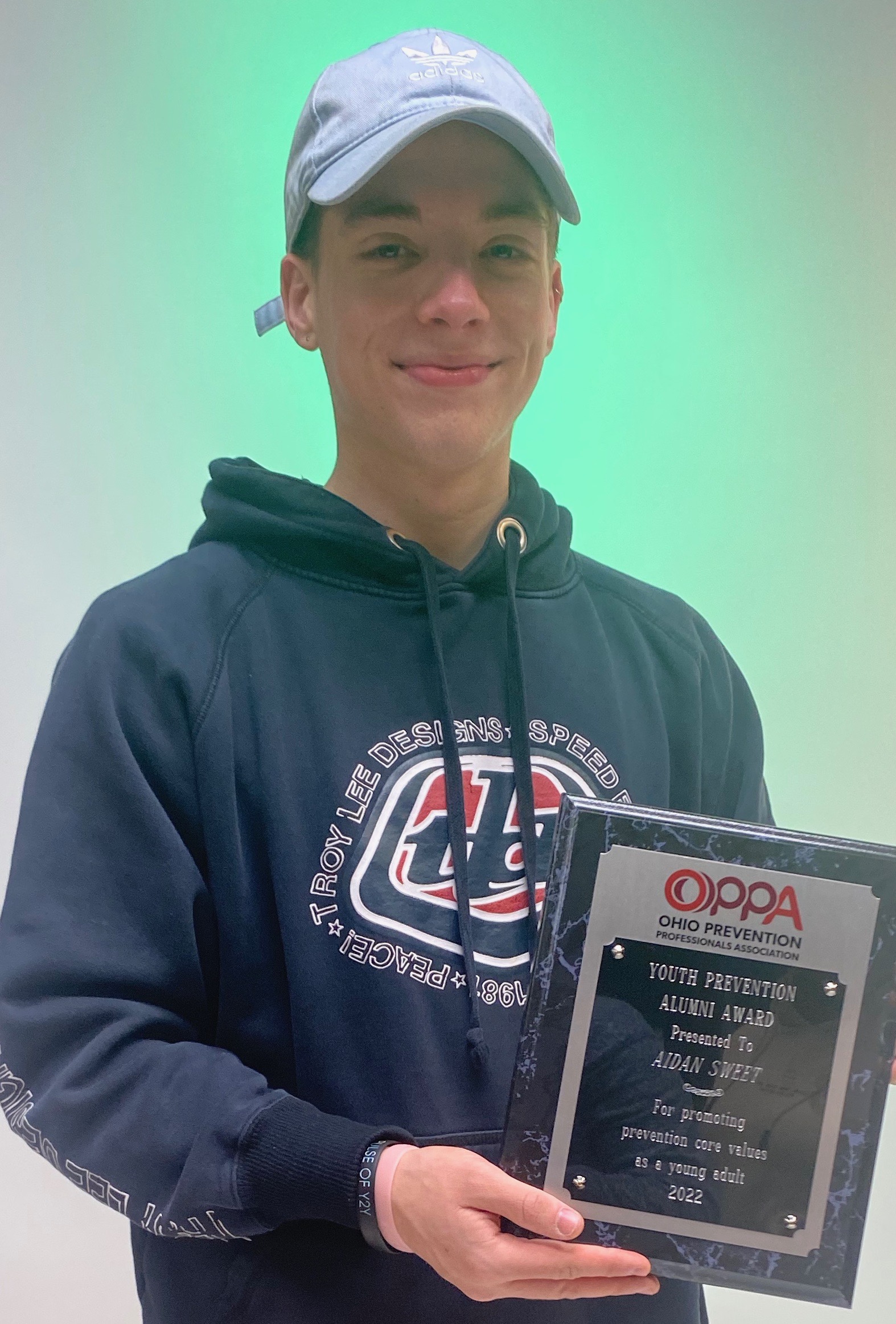 Aidan Sweet
Aidan Sweet is the recipient of the 2022 OPPA Youth Prevention Alumni Award, which honors an alumnus of youth-based prevention continuing to promote core prevention values and beliefs as a young adult.
Aidan, who graduated from Olentangy Liberty High School in Delaware County in 2019, was a teen prevention leader as a high school student. He was actively involved in Franklin County-based Youth to Youth International, training other youth and adult prevention leaders in Ohio, Rhode Island, North Carolina, and elsewhere. He even brought his musical talents to his prevention work, performing at various prevention events, including the last in-person version of the Youth Prevention Showcase, in 2019.
Aidan is now a junior at The Ohio State University, and he has continued to be a prevention leader. He volunteered with Youth to Youth as a college student and was hired by the organization on a part-time basis in 2021, exemplifying to today's high school students that young people can continue to make healthy choices into their college and young adult years. He is inspiring today's teens to develop their creative skills and use them to promote positive, healthy decision-making.
Aidan also volunteered as co-host the OPPA 2021 Youth Prevention Showcase, using his humor, presentation skills, and prevention experience to shine a spotlight on Ohio's youth prevention leaders.
While he has moments in the prevention spotlight, Aidan sees his primary role now as supporting and encouraging a new generation of Ohio youth prevention leaders to develop their skills, share their voice, and champion prevention in their communities and across the state.
Aidan's continued commitment to core prevention beliefs and values epitomize how the heart of youth-led prevention can resonate well past graduation day.
"Aidan is continuing a legacy, begun by his grandfather, Bob Sweet, who co-founded Youth to Youth in 1982," said LeAnn Greer, who nominated Aidan for his award. "Aidan recognizes how youth-led prevention impacted his life and now champions prevention for new generations, striving to promote youth-led prevention messaging in Central Ohio, across the state, and on national and international levels."
Luke Watson
Luke Watson is the recipient of the 2022 OPPA Youth Advocate Award, presented to a teen who is a prevention advocate and role model to their peers.
Luke is a sophomore at Loveland High School in Hamilton County and a member of Loveland Educating Against Alcohol and Other Drugs, or LEAAD, his local youth-led prevention group. He's also just completed his second year serving on the Ohio Youth-Led Prevention Network Youth Council, a statewide leadership group that coordinates statewide youth-led prevention initiatives.
Luke's advocacy for prevention takes place on various levels – statewide, local, and personal. On the state level, he has worked on several projects, including the We Are The Majority Rally, a statewide event illustrating the strength of youth-led prevention in Ohio. As a member of the Rally planning committee, he has helped create the event theme and agenda both years, and, in 2021, he interviewed Lori Criss, Director of the Ohio Department of Mental Health and Addiction Services, as part of the Rally program.
On the local level, his work with LEAAD has included planning events, encouraging other teens to become involved in the group's activities, and simply leading by example with his peers and the younger students in his community.
Luke's prevention advocacy manifests in individual actions, too. He posts mental health resources on social media. He promotes other prevention activities beyond what LEADD and the OYLPN Youth Council are implementing. And, he celebrates the work of his youth-led prevention peers every chance he gets.
Luke's passion shines through all of his prevention work. He is a stalwart advocate for prevention and an exceptional role model to not only his peers, but to the adults who see his example.
"It can be difficult for a young person to stand out among the crowd and be the loud voice for something that has so much stigma," states Geena Crosby, the OPPA member who nominated Luke for his OPPA award. "But this just speak to who Luke is as a person. He truly cares about others and wants the best for everyone. Luke is truly a prevention advocate and amazing role model to his peers."
Samuel Arledge
Samuel Arledge is the recipient of the 2022 OPPA Youth Excellence Award, honoring a teen for exemplary efforts to amplify prevention across Ohio.
Sam begins his senior year at Westfall High School in Pickaway County in the fall. A three-year member of the Ohio Youth-Led PreventioN Network (OYLPN) Youth Council, Sam has been involved in actively involved with several statewide initiatives, from helping to plan and implement the We Are The Majority Rally to developing prevention workshops on topics from mental health to adult allyship, delivered to youth and adult prevention leaders throughout Ohio.
Sam has also been involved in legislative advocacy. At Prevention Action Alliance's 2021 Advocacy Day, he led a conversation with legislators about the impact that vapor products have on youth, and gaps in enforcement. 
Sam's knowledge of enforcement of underage access laws is underlined by another role he maintains. Sam works with the U.S. Food & Drug Administration doing tobacco inspections with retailers to ensure compliance with the Family Smoking Act and with an Ohio Investigative Unit with similar inspections for retail compliance with alcohol laws.
OPPA member Geena Crosby, who nominated Sam, states, "It is rare to see Sam's level of dedication to furthering prevention efforts across the entire state. Sam puts his work in prevention at the forefront of everything he does, exemplifying the OPPA Youth Excellence Award."
Kylie Brandt
Kylie Brandt is the recipient of the 2022 OPPA Youth Community Champion Award, honoring a teen who goes beyond expectations to advance prevention in their community.
Kylie, an incoming senior at Akron Early College High School, has been a member of Summit County Youth to Youth since sixth grade, when began participating in monthly school-based prevention club meetings and weekend camps.
Now a senior Y2Y staff member, Kylie mentors newer youth staff, attends bi-monthly countywide meetings, serves on youth staff and helps plan Youth to Youth camps. She contributed over 100 hours of volunteer service to Summit County Youth to Youth in the 2021-22 school year alone.
OPPA member Lauren Munk, who nominated Kylie, states, "She is one of the most reliable, consistent, and respected leaders in our program. Kylie is an outstanding drug-free role model to her peers and middle school students, as well as an exemplary community ambassador for Summit County Youth to Youth."